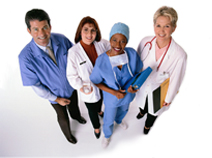 Opioid Dosing - Quick Links
---
The Agency Medical Directors' Group (AMDG) mission is to maximize the value, quality, safety, and delivery of state purchased health care.
AMDG members collaborate across state agencies to accomplish the following goals:
Identify and assess ways to improve the quality of healthcare delivered to Washington citizens,
Promote the cost-effective purchase of health care services, and
Simplify the administrative burden for providers in Washington's health care financing and delivery systems.
"These goals support RCW 41.05.013 on coordinating state purchased health care programs and policies."
The AMDG's medical directors and senior policy makers focus available resources on the following priority areas that provide immediate and long-term benefits for Washington's health care delivery system:
Protect public health: by advancing initiatives and programs that keep people safe and improve their health.
Purchase high value care: so public funds are used wisely for high quality care.
Implement evidence-based best practices: by using research to produce policies and guidelines on clinical topics that affect everyone.
Coordinate state health care coverage and purchasing: to make efficient use of resources.
Support and integrate healthcare reforms: that affect all Washington citizens.
For questions about benefits or services from state health care programs, please contact the agencies directly. Contact information for all agencies and their programs is available through www.access.wa.gov